Clinic Hours: 7:00 am - 3:00 pm
Emergency Medical Form | Lakota Health History | School Medication Permit
New to Lakota? Welcome to Lakota West High School. We are glad to have you here. All of our new students are required to submit proof of full immunizations.
THESE INCLUDE:
- 4 doses of DPT
- 3 doses of Polio
- 2 doses of MMR
- Current TB Test Recommended
These requirements must be submitted within 14 days after starting school.

Janet Den Herder, RN, BSN


Mrs. Den Herder graduated from William Paterson University, Wayne, NJ, with a Bachelors Degree in Nursing. She also has additional course work from the University of Cincinnati and is certified as a school nurse in the state of Ohio.

Janet has been a school nurse in the Lakota School District since 1990. Prior to this, her nursing experiences included: Orthopedics, Operating Room, Coronary Care, Coronary Step Down and Cardiac Rehabilitation in NJ, Lima, Ohio and Pittsburgh, Pennsylvania. This varied background is helpful when caring for the needs of our students.

As a resident of the community, Janet has seen the Lakota School District grow. Her three sons all attended and graduated from Lakota.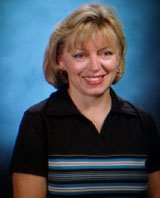 Jackie O'Brien, Aide


Mrs. O'Brien has worked for the Lakota Schools since 1993. She is a graduate of UC with a degree in Social Work. She worked for the Hamilton County Welfare Department for three years and then moved into the private sector as a personnel manager of a corporation that owns hotels and restaurants. Jackie has also worked for WVXU as a special projects coordinator.
Jackie has three sons, all have attended and graduated from Lakota. She enjoys her boys' activities and travel.
If you have an questions, please call: (513) 682 - 4126
Our clinic fax number is: (513) 682 - 4135

"School nursing is a specialized practice of professional nursing that advances the well being, academic success, and lifelong achievement of students. To that end, school nurses facilitate positive student responses to normal development: promote health and safety: intervene with actual and potential health problems: provide case management services: and actively collaborate with others to build student and family capacity for adaptation, self management, self advocacy, and learning."
       -National Association of School Nursing
Lakota Local School District Procedure for Administration of Medication at School
Implementation of Lakota Board Policy #902
Providing medical care to a student is the responsibility of the parent and should not be assumed by the school. Whenever possible,it is preferred that students not be expected to take medication during school hours. If it is absolutely necessary that medication be administered during school hours, the following procedures must be followed:
A written permission for dispensing medication (prescription or over-the-counter) must be obtained from the student's parent and physician. The administration of any medication without the order of a physician and the permission of the parent or guardian is interpreted as practicing medicine and is prohibited by medical law.

The "School Medication Permit" must be completed by the parent or guardian and the physician. This form provides parent permission, medical information, and the physician order required by Ohio law. A separate form is required for each medication or dosage. No medication will be administered unless this permission, information, and order is provided.

THE STUDENT IS RESPONSIBLE FOR REPORTING ON TIME FOR MEDICATION(S).

Students are not permitted to carry medication to, from, or during school; consequently, the parent is advised to deliver medication directly to the school nurse or clinic aid. School personnel are not responsible for medication prior to delivery to them.

All medication must be delivered in the original container properly labeled with directions for administering. The student's name must be clearly visible on the container. The parent must supply the school with the exact dosage.

It is a responsibility of the parent/guardian to assure a continuous supply of medication for the child and to be aware of the quantity of medication supplied to the clinic and when additional medication is needed.

The school nurse or designee will administer the medication in accordance with the physician's instructions. STUDENTS MAY NOT CARRY OR ADMINISTER THEIR OWN MEDICATION because reactions to the medication taken may not be recognized and inappropriate treatment might be rendered. If the physician specifically documents on the medication permit that a life-threatening situation could occur if the student does not have immediate access to that particular medication, the medication may be carried by the student. School personnel are not responsible for medications carried by a student.

The district medication policy and all procedures for implementing the policy also apply to giving Tylenol or Advil for menstrual cramps of discomfort from dental braces and/or to giving any over-the- counter medication.

When a medication has been discontinued, any remaining medication must be picked up by the parent within one week after discontinuation or it will be disposed of by the school nurse.