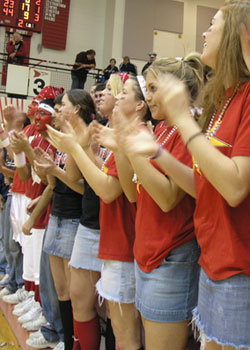 From the Principal
In the News
Barb Bossu Volunteer Spirit Award
Barb Bossu was as enthusiastic parent volunteer and the Union Elementary PTA president at the time of her death. The Volunteer Spirit Award was established in 1990 to commemorate her very special dedication to public education by honoring a volunteer each year from every school in the Lakota district. Each building determines its own recipient, and all of these special volunteers are honored at a district wide ceremony in May.
Anyone can nominate a school volunteer for the Barb Bossu Award. The process is very simple: Please take note of the following criteria, fill out the nomination form on the back and then return the form to the box in the school office. The selection of each school's recipient from the nominations received will be made by a selection committee sometime in April.
Nomination criteria:
The nominee must be currently involved with their respective schools, but does not need to be a member of the PTA, PTO, or PTSO.


The nominee may be a highly visible, well known person who dedicates a lot of time and energy to the children. After all, this is what Barb did with her life. The person may be a leader in your school organization or a behind the scene worker bee. This is not necessarily an "unsung hero award".


If you have previously nominated someone who did not receive the award, please consider nominating them again if they are still doing a lot for the children.


This is a volunteer award, therefore a staff member may be nominated based on what they do for the children outside the realm of their normal job.
We encourage everyone to take a moment to consider nominating a volunteer who is making positive things happen in their building. This is your opportunity to demonstrate your appreciation for the volunteers that truly make Lakota a special place to educate children.
Nominations must be received by April 6, 2007.

» To submit a nomination, download this form. Complete it, save it, and attach in an email to [email protected]. Feel free to email with any questions.
« Back
Search
Quick Links
Upcoming Events